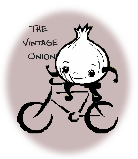 We are traders in antiquities, antiques and memorabilia.
We pride ourselves on providing a personalised service to both our private clients and other trading businesses.
The owners and staff of Vintage Onion have over 20 years of trading experience and we aim to offer a superior product at a fair price.
We have included on this site of examples of our products that can be found in our product range.
We can supply from stock - see our product pages, or to order.